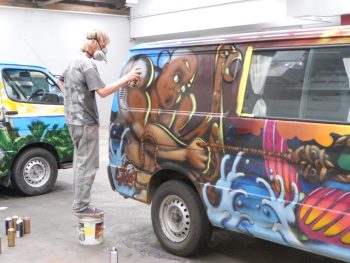 Escape Rentals New Zealand was established in 2003 by three good mates (Peter, Mike and Andrew) with a passion for surfing…and for travel.
Whilst traveling and exploring the various surf-breaks around the world, these guys gained an understanding of what really matters when it comes to backpacker transport.
It's a simple formula; good, solid, reliable vehicles, a large comfortable bed and an easy, functional kitchen. Combine that with friendly, personalised service and excellent support whilst you're on the road and you have one of the best ways to travel New Zealand.
And of course…Price. These guys knew the importance of value when it comes to backpacking and travelling the world. You want to spend your money on once-in-a-lifetime experiences and activities, not on your daily transport requirements. We get it!
It also helps that Escape Campervans feature graffiti artwork from some of New Zealand's best street artists. Our campers are head-turning works of art. No offensive slogans or bland panel-vans for our travellers… Just gorgeous artworks, worthy of that selfie or Instagram post 😁
And that's Escape.
We're still a family-owned business, delivering a great product and service to our international visitors. We're proud of New Zealand and proud of our history.
And yes, we're still mates with the three founders of Escape New Zealand.
Even now, 15 years and 30,000+ hires later, we still embrace the ethos and spirit that started it all.
So, thanks for checking us out and we look forward to seeing you soon.
Oh, and if you're heading to the USA check out Escape Campervans USA. Rob and his crew have hundreds of Escape campervans spread out over 10 depots throughout North America.