Campervans Built
for a Great Escape
Explore New Zealand with Cheap Campervan rentals from Escape
Escape Rentals is one of New Zealand's favorite campervan hire companies. We've been operating for nearly twenty years, with over 40,000 happy hires.
Escape provides cheap campervan rental prices and deals for backpackers on a budget, independent and local travelers alike. All campervan vehicles accommodate up to 3 adults and are fully equipped with free bedding, beach chairs, kitchen facilities/utensils, and more.
New Zealand just might be the best place in the world to rent a campervan. From the natural wonders, stunning fiords, and world-renowned adventure playgrounds of the majestic South Island, to the rich diversity of cultural experiences, picturesque coastal surf beaches and stunning adventure-packed destinations such as The Bay of Islands, Waitomo, Rotorua, and Lake Taupo, New Zealand's North Island has to offer.
So next summer, 'Make Your Escape' and choose Escape Rentals for your New Zealand campervan holiday experience.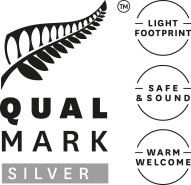 Book Your Summertime Campervan Experience with Escape !
An Escape Rentals campervan is a great way to experience this wonderful country of ours…
Really great value! Self-contained campers from just NZ$145 per day during summer.
Superb Reputation. Our user reviews are among the best in the industry. Many of our hires are referrals from friends.
Easy to Drive. Our campervans are rugged, reliable, comfortable…and really easy to drive.
Easy to Book. Use our online booking system. A NZ$300 deposit will reserve your Escape Rentals camper for the summer and that deposit is fully refundable if you cancel just 22 or more days prior to your scheduled campervan pickup collection.
8 Great Reasons to Choose Escape Rentals
Nearly 20 years and 30,000+ hires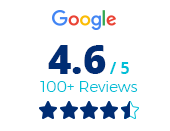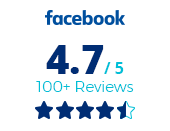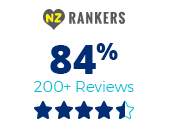 Tyler Hesselmans | June 2023
My friend and I rented an Escape van for a quick 10 day trip throughout the lower half of the South Island. The van was clean and in perfect condition; without any mechanical issues along the way. The tour of the van and review of our details during the pickup in Christchurch was a straight forward and easy process. We highly recommend Escape and we're interested in using their services during our future travels!
Loved our Escape campervan! The unique exterior made it really feel like our van for the five weeks we had it. I think the van was a great size. Easy to drive, but still plenty of space in the bed for me to fit even though I'm 6'5″. Having the ability to cook and clean at the back of the van was great too.
I cannot recommend Escape Rentals enough! Very easy and straightforward pickup, not trying to talk you into any extras, very easy return process as well and also super reasonable with wear and tear. The staff was super friendly and always just a phone call away for any questions. I was soooo comfortable in this van, the duvets they provided were warm and comfy, kitchen is well equipped, van drove smooth and was a trooper even on rough roads and down in Fiordland! I am already thinking of returning and would 100% rent again with them!
Janneke Strebus | February 2023
Definitely recommend Escape Rentals! We travelled for almost 5 weeks with our 'Cook Strait' campervan. And we loved it. Already missing our van. Why we recommend this Campervan?
1) We are pretty tall (>1,80m) and the bed is 2,10m L x 2,00m B. So we slept really good, the matras is soft as well.
2) Because the van isn't that big you can drive easily 100km/h. Also in the mountains you are one of the fastest! (Ofcourse be careful all the time).
3) We also booked the picnic table and bbq, do this as well and you have everything to have amazing meals everywhere.
4) The staff is very friendly and helpful
5) In the 5-weeks we had no problems at all
6) The prints are amazing, many people will ask questions about the van.

So.. Just book it for an amazing time in NZ.
Elani Williams | October 2022
Wow! What an amazing trip! This Van was incredible and took us to the most beautiful places with no problems! Terry was awesome and so helpful! I highly recommend booking your Van here! The bed and space was perfect! It drove wonderfully, and when we needed to hook up to powered site to keep warm, a heater was provided! We enjoyed all the free sites too, cool too was provided and everything you possibly need to cook! The shades blacked out the entire van for privacy at night! I loved this van and didn't want to leave! Thankyou team!!!
Amazing deals included with your hire
Two models. Hundreds of designs. Thousands of happy campers. Check out our range of campervans here. Interior layout. Van specifications. Inclusions and optional accessories. It's all here… and more.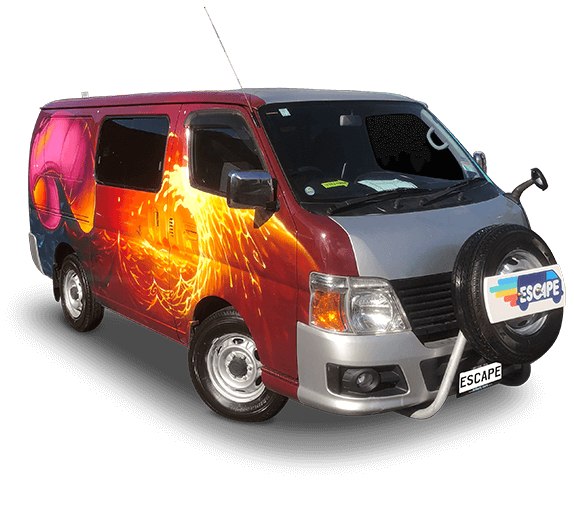 Great Escapes and Great Artists at Work
New Zealand is the perfect destination for a self-drive holiday. Drive for a few hours and you'll go from cosmopolitan cities to golden sandy beaches. From lush rainforests to rugged mountain ranges. It's all about the journey in NZ.
Cath and John's Great Escape!
Cath and John escaped with us in 2013 and sent us this brilliant video of their epic North Island road trip. Love your work guys!
Jan and Gert also travelled the South Island with Escape and captured their trip wonderfully within the video above.
And speaking of brilliant videos, check out the two-minute time-lapse video of one of our favourite artists at work.
Safe & Smart Road Trip Experiences