The iconic kiwi summer, the long awaited time for consecutive sunshine, lots of swims, and memorable road trips. So, if you're looking for the best way to explore and experience what New Zealand has on offer, you simply can't beat the classic kiwi summer road trip! From waterfalls to sandboarding to beach hopping, it'll undoubtedly be an experience that you won't forget.
At Escape Rentals, we've got you sorted with great deals on both (certified) self-contained and standard campervan models. Plus, heaps of great recommendations for road trip itineraries throughout New Zealand.
Before the fun can begin, you'll need to choose your ideal mode of transportation. 
Both our standard (no toilet facility) and (certified) self-contained (includes a toilet facility) campervans comfortably seat and sleep up to three people. You can also travel with ease knowing your ride comes equipped with 24-hour roadside assistance, air conditioning, standard insurance, running water, a gas cooker, cooking equipment, three beach chairs, and that well-needed aux stereo!  
Alongside these inclusions, the exterior of the campervan is a perk of its own! From our 'Queen Bee Campervan' to 'Fush and Chups', there are over 200 unique designs within the Escape Rentals campervan fleet. All of which would make for an epic photo backdrop! 
Before you hit the road, make sure you check out our article, "Do I Need an International Driving Licence to Drive in New Zealand?".
North Island summer road trip ideas
Starting in the North Island, here are four of our favourite kiwi summer routes!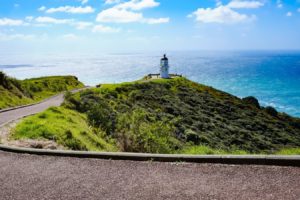 Auckland to Cape Reinga (approx. 6hrs, 427km)
The coastal journey from Auckland to Cape Reinga is not one to miss. After heading out of Auckland City, we recommend a pit stop at the breath-taking Mangawhai Heads. Here, you will find the magnificent Mangawhai Cliff Top Walkway, offering extensive views of the surf. For a sugar boost before your hike, Bennetts of Mangawhai is a must-do for handcrafted treats.
An hour or so further drive, check out the spectacular Whangarei Falls. Follow the short loop track to witness the 26-metre drop from almost every angle. The base area of the falls is also a picture-perfect picnic spot – so pack a flask and some lunch, and you'll be good to go. 
From Whangarei, continue north into beautiful Paihia and Russell in the stunning Bay of Islands. From fishing charters to quaint cafes and the historical Treaty of Waitangi Grounds, there's certainly no shortage of fun and interesting activities to do in these two small towns. Paihia Terra Restaurant and Russell Hone's Garden are some of their many delicious dining spots. 
As you travel further north along your journey, you'll eventually reach the well-loved and treasured 90-mile beach. Make sure to keep an eye out for the massive dunes that make for a popular sandboarding spot!
One more hour of driving and you would have made it to Cape Reinga, also known as 'the tip of the north island'. Watch in awe from the Cape Reinga lighthouse as the Tasman Sea and the Pacific Ocean meet. 
Camping grounds and holiday park options along the way:
Auckland to Coromandel (approx. 4hrs, 186km)
Another popular summer roadie is Auckland to the Coromandel. Just under two hours away from Auckland CBD is the lovely beach town, Tairua. Here is the ideal pit stop to enjoy a swim or surf, dine at the Beach Club, and/or walk up to Mount Paku Summit to take in the picturesque landscape. 
From Tairua, it'll only take a further 20 minutes or so to reach Hot Water Beach. Famous for the thermal water bubbling beneath the sand, you can join the many other locals and tourists alike digging up their natural hot tub at low tide. Enjoy the warmth, waves, and bustle of people embracing the spot's novelty. Just be careful to avoid the REALLY hot spots! 
The excitement continues with the stunning Hahei Beach, only 10 minutes or so drive away. Stroll along the golden sand or walk the iconic Cathedral Cove Track. The 40-minute walking track passes through two bays and leads to the world famous Narnia backdrop—almost too awesome to be real! Make sure to keep an eye on the tides, as like Hot Water Beach, this destination is also best enjoyed when the water is out. For a post-walk and swim feast, the Church Bistro is quite the treat. 
Camping grounds and holiday park options along the way:
Rotorua to Gisborne (approx. 4hrs, 280km)
For more thermal wonders, Rotorua is the place to be. From cultural experiences, to thermal hot pools and natural wonders, it can feel like you're on a different planet! Once you've explored the top sites (such as Polynesian Spa, the Redwood Forest, Rainbow Mountain, and Pig & Whistle Historic Pub), just to name a few, the fun continues on a roadie to Gizzy (aka Gisborne). 
The beginning of the journey meanders beautifully alongside Lake Rotoiti and Lake Rotoma. After the first hour of driving, you'll be getting close to Whakatane. Stop off at Julians Berry Farm and Cafe, for some berry picking or a delicious real fruit ice cream, before heading into the town centre.
Over the Whakatane Hill, is Ohope Beach. At the western end of the beach is the start of the Nga Tapuwae o Toi Walkway—filled with magnificent views, shelly beaches, and stairs. To refuel after getting in those steps, the Quay Cafe and Port Ohope General Store are top picks! 
The next stop on the route is Opotiki. If you're able to spend time here, the Opotiki Dune trail is a must. Admire the ocean air as you cruise down the coastline. 
Then it's time to jump back in the camper and follow the Waioeka River down to Gisborne. To get the adrenaline racing, you can slide down Gizzy's natural Rere Rock Slides, using a boogie board or tube! Or chill out for a moment at the nearby Rere Falls. Another bucket list item is the Gisborne Tandem Railbikes. Following the rail line means there's no stress over balancing or steering! And with Gisborne being the first place in the world to see the sunrise, make sure to head to the beach to watch the sun come up! 
Camping grounds and holiday park options along the way:
Taupo to Wellington via Napier (approx. 5hrs, 458 km)
Maximise your North Island travel with a road trip from Taupo to New Zealand's capital city, Wellington. When visiting Taupo, don't forget to experience local attractions such as Huka Falls, Mt Tauhara, and the Huka Prawn Park, then get ready to drive two hours or so from Taupo to Napier. Here, you can visit Cape Kidnappers and Te Mata Peak, before hitting the wineries in Hastings. Elephant Hill and Clearview are top picks! 
From the Hawkes Bay area, it's another two hours until you'll reach Palmerston North. Home to the Te Manawa Museum (Art, Science and History) to the Rugby Museum, there's plenty of history to absorb in this part of the country. Plus, with Manawatu Gorge and Bledisloe Park, there's also plenty of opportunities to spend time in nature. 
As you get closer to Wellington, another must-do bucket list walking track is the Paekakariki Escarpment Track. The popular track is made up of swing bridges, stairs, forest, and meandering path. From here, it's only another 30 minutes in the camper before you reach Wellington. Once you've got your selfie with the Beehive, make sure also to check out Mount Victoria, the Wellington Cable Car, and, of course, Cuba Street for some divine dining options. Scopa and Olive are always a winner! 
Camping grounds and holiday park options along the way:
South Island Summer Road Trip Ideas:
Now, for the South Island. Check out three of the top South Island Roadies below. (Please keep in mind that the weather can be a bit more unpredictable down here. So, plan ahead and always drive the conditions).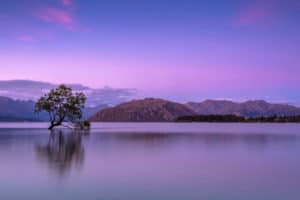 Nelson to Queenstown (approx. 11hrs, 900km)
The Nelson Tasman Region is an absolute stunner! From kayaking to mountain biking to dining, it's undoubtedly a destination for the scrapbook. The area is also known for its walking trails, particularly the Abel Tasman Coast Track and the Te Waikoropupu Springs. 
From Nelson, a four-hour drive will lead you to Hokitika. A pit stop in this quaint beach town usually includes visiting Hokitika Gorge, walking along the West Coast Tree Top Walkway 40 metres above the forest floor, and watching the sunset on Hokitika Beach. Hokitika is also home to one of the best jade shops in the country. 
Around two hours down the West Coast, you'll discover the world-renowned Franz Josef Glacier. Treat yourself to a glacier tour or enjoy the view from afar on a short walk to a viewing spot. As you're driving out the area, make sure to stop off at the reflective Lake Matheson. There's also a lovely cafe and gift store near the entrance to the walk. 
Once you get closer to Mount Aspiring National Park, keep an eye out for Thunder Creek Falls, Fantail Falls, and the Blue Pools Track— all of which are short tracks/lookouts with jaw-dropping views. From there, keep driving down to Wanaka. 
Wanaka is home to Puzzling World, Wanaka Lavender Farm, Roy's Peak, and the famous Wanaka Tree. So, make sure you leave enough time to soak up the sights before driving just over an hour to Queenstown. 
In Queenstown, you'll be spoiled with things to do! From jet boating to cycling to luging, your time in QT can be as action-packed as you like. The dining scene is just as impressive! Favourites include Ferg Burger, Patagonia Chocolates, Remarkable Sweet Shop, Cookie Time Cookie Bar, and Yonder Cafe. Plus, the Below Zero Ice Bar is a load of fun as well! 
Camping grounds and holiday park options along the way:
Queenstown to Milford Sound (approx. 4hrs, 300km)
After exploring Queenstown, it's well worth the four-hour drive to experience Milford Sound—the 8th Wonder of the World. To break up the journey, Te Anau is a great pit stop. Here, you can see the birds at the Bird Sanctuary, trek the Kepler Track, and explore the Glowworm Caves. 
From Te Anau, Milford Sound is only a two-hour drive away. You can walk to see Boden Falls from afar or take a cruise to experience the 161m drop up close. And, the waterfall hunting doesn't stop there. The area is also home to Stirling Falls, Fairy Falls, Four Sisters Falls, and the Chasm. 
To refuel after a day of exploring, Pio Pio Cafe always gets raving reviews!
Camping grounds and holiday park options along the way:
Christchurch to Omarama via Mount Cook (approx. 5hrs, 426km)
Starting in Christchurch, a three-hour drive will take you to Lake Tekapo. Here you can visit the Church of the Good Shepherd, Tekapo Springs, and, of course, enjoy the vibrant colour of the lake itself. Neighbouring the lake is Mount John. After a 1.5 hour walk up to the summit, you'll be rewarded with a drink and bite to eat at the picturesque Astro Cafe (just double-check their opening times before you plan your meal break). 
You can then head inland towards Mount Cook and the beginning of the 3-hour return Hooker Valley Track. On a clear day, the track provides magnificent views of Mueller Glacier, Hooker Lake, and Mount Cook. There are also multiple swing bridges to keep things interesting! If you're up for another short walk, the Blue Lakes and Tasman Glacier Track is also a beauty. 
From Mount Cook, it's about a two-hour drive to Omarama. While the name may not sound familiar, it'll soon be unforgettable. The Omarama Clay Cliffs—which featured in the latest Mulan live-action movie—will have you feeling like you're in Arizona or Utah. (Please note: The cliffs are accessed via a private road, so there is a $5 cash donation required for each vehicle). 
Walking around the cliffs becomes even more fascinating, knowing that they were made around 20 million years ago. And, once you're ready to relax, Hot Tubs Omarama, provides the opportunity to soak in a private mineral bath while being surrounded by the mountains. 
Camping grounds and holiday park options along the way:
Tips and Tricks for Travelling in New Zealand During Summer:
For a fun and safe summer roadie, remember to slip, slop, slap and wrap and stay hydrated! The kiwi sun is much stronger than many other countries, which means you can still get burnt even on a cloudy day. 
To avoid looking like a lobster or tomato, remember to carry sunscreen with you at all times. Ideally, you should be using sunscreen that is 30 SPF or higher and water-resistant—especially if you plan on taking a dip! 
To help protect your skin for the sun's harsh rays, wide-brim hats, sunglasses, and beach coverups are also a must! 
If you're planning on driving long distances, always take time for a short break. Adhere to speed limits, be patient, and mindful of pedestrians and cyclists.
And, lastly, make sure to read our do's and don'ts of a New Zealand road trip.
You may also want to check out: