If there's one place on earth that was made for stargazing, it's New Zealand. Our country boasts of big open skies, national parks with little to no light pollution and stunning locations that you can't find anywhere else in the globe.
Want to bask in the glow of celestial bodies? Well then let's get straight into our Top 5 Stargazing Spots.
Mt. Cook National Park
Mt. Cook National Park is part of the Aoraki Mackenzie International Dark Sky Reserve, a 4,300 sq km swath of land that boasts zero artificial light pollution. This means that it's one of the best places in the world to stay up all night and gaze at the stars. Here you can see heavenly bodies like the constellations, the Milky Way and some planets even with the naked eye.

Tekapo
Another famous spot for stargazing is Tekapo. Located in the Aoraki Mackenzie region, Tekapo is also part of the International Dark Sky Reserve and is known for both its stunning glacial lake and its breathtaking night views.
Climb up Mt John before dusk and check out the Earth and Sky Observatory. You can also book a guided tour that showcases  the beauty of the night sky while soaking in Tekapo's famed hot springs. If that isn't enough to take your breath away, come in the wintertime and you might see the Southern Lights dancing over the beautiful landscape.

Aotea/Great Barrier Island
If Dark Sky Reserves are breathtaking, Dark Sky Sanctuaries belong to a different league altogether. According to the International Dark Sky Association (IDSA) Dark Sky Sanctuaries are remote areas with exceptional starry skies and nocturnal environments protected for its educational value. So far, there are only 4 Sanctuaries in the world, and one of them is found in Aotea or Great Barrier Island.

Its small population and status as a nature reserve make GBI's nightscapes one of the most beautiful in the world. It might be far away from modern comforts, but it's well worth the trip.

Tongariro Crossing
The Tongariro Alpine Crossing is arguably one of the most popular hiking trails in the country. The only downside, perhaps, is that it can get quite packed during peak season. If you want to avoid the crowds, skip the day hike and opt for a night-time adventure instead.
Tongariro's night hike is as breathtaking as its day-time counterpart. You'll set off a couple of hours after midnight and traverse the landscape using only headlights and the glow of the stars above. Does that sound like an adventure or what?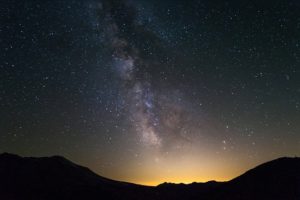 Rakiura National Park
Further down south is Rakiura National Park. Located in Stewart Island, this national park isn't only great for stargazing; it's also one of the best places to witness the Southern Lights or Aurora Australis. In fact, Rakiura means "The Land of Glowing Skies" in Maori, so if you want to see a magnificent display of yellow-green, pink and purple lights, this is the place to be. The Southern Lights can occur at any time of the year, but they're especially common during the winter, so keep that in mind when planning your next trip.