There's no better way to fully experience a country than by camping your way through it. You'll see more scenery, meet more people, and witness more wildlife than you ever would staying in hotels or motels. Everything you see and experience along the way will all add up to an unforgettable experience. What's even better is the freedom to camp whenever and wherever you like.
Welcome to Wild Camping.
What is Wild Camping?
Wild Camping (also known as Freedom Camping) is camping anywhere that isn't a designated camping ground or holiday park. Whether you set up camp on a beach, in a forest, or even the side of the road, you are Wild Camping.
What is the Wild Camping law in New Zealand?
For all those wanting to experience New Zealand by Wild Camping – good news! In New Zealand under section 10 of the Freedom Camping Act 2011 you are allowed to camp in any local authority area unless camping is actively restricted or prohibited in that area. This means you can often Wild Camp on Department of Conservation (DOC) and local council land.
The rules on Wild Camping can differ slightly however, depending on the part of New Zealand that you're in. There are local bylaws in different regions that dictate what rules you must follow in order to enjoy Wild Camping. For example, some councils won't let you Wild Camp within 1km of the town or will only allow you to stay for one night. Generally speaking though, as long as you don't leave any rubbish or waste behind, you can camp anywhere as long as there aren't any signs indicating otherwise.
To be on the safe side, go to the Visitor Information Centre (i-SITE) at the closest town to which you're planning on staying, and check whether they have any specific areas where you are not allowed to camp. If you are on DOC land, then wild camping is allowed unless the land has special value related to flora or fauna. Just keep a lookout for signs usually located at the entrance to these areas and follow the rules they set out.
What type of vehicle is allowed for Wild Camping?
Having the right type of vehicle will help you make the most of your Wild Camping experience. Wild Camping rules apply to vehicles such as cars, vans, motor caravans, campervans, RVs, motorhomes, caravans and mobile homes. The most common rule you will come across when looking for a spot to camp is that your vehicle must be self-contained. That means you have to be able to live in it for three days without getting more water or dumping waste.
According to the New Zealand government website, a self-contained vehicle must have:
A toilet facility
Fresh water storage
Waste water storage
A rubbish bin with a lid
Fully self-contained vehicles are the way to go as they allow you to camp in more places. They're more convenient to camp in, as they are fitted with a toilet and washing facilities. The purpose of this is to promote protection and conservation of the surrounding environment.
Escape Rentals have a bunch of self-contained campervans that meet these requirements. If you're interested contact us, or just give us a call on 0800 21 61 71. We'll get you sorted with the right camper for your journey.
What are the penalties of Wild Camping in New Zealand?
You can get an instant $200 fine if you break Wild Camping laws in New Zealand.
This includes:
Causing damage to the area you're camping in
Not leaving an area when told to
Refusing to provide information to an enforcement officer (DOC or council worker)
Camping in a prohibited area
Camping without a toilet in a self-contained vehicle area
Dumping waste or rubbish
You could also receive a $5,000 fine if you behave illegally towards an enforcement officer from the local council or Department of Conservation.
A court-ordered fine of up to $10,000 could also be applied if you dump major waste, such as sewage, on public land.
If you receive a fine you have 28 days to pay it. All details of how to pay the fine will be listed on your notice. If you don't pay your fine then you can be taken to court. If the vehicle you are using is rented then the vehicle company can charge the fine to your credit card.
Where is the best place to Wild Camp in New Zealand?
Some great Wild Camping spots to check out are:
Things to keep in mind while Wild Camping
We want you to have the best time while you're in New Zealand. Remember to stay safe and be aware of your surroundings. The land that you're on is home to many people and has a lot of historical and cultural value. It's important to treat it with respect and care. Take your rubbish with you and recycle or dispose of it in the bins around you.
If you're driving a self-contained vehicle, remember to dispose your water waste in the correct disposal facility. Before sleeping make sure your doors and windows are locked and any values are stored away. Most importantly, don't camp on private land.
Note
If you see this sign with the red line it means overnight camping is not allowed in that area.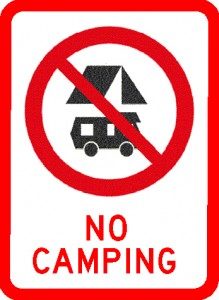 Blue signs with 'SELF CONTAINED' below a caravan icon means camping overnight is permitted for self contained vehicles only.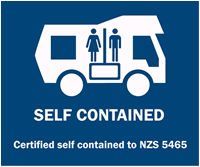 Now comes the best part. It's time for you to go wild and explore!